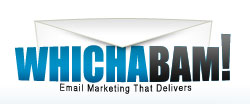 WHICHABAM! Email Marketing Pricing
WHICHABAM! is a permission based email marketing service. Once approved you will have access to all the best features in the email marketing industry.


WHICHABAM! Pricing Works As Follows
Monthly Subscription Fee
Based upon the size of your email contact list. Send as many email marketing campaigns as you like!
Standard Volume – WHICHABAM!
Monthly Fee
$20
$30
$50
$75
$150
$240
Total Subscribers
0-500
501-2500
2501-5000
5001-10000
10001-25000
25001-50000
Cost Per Additional Email
n/a
n/a
n/a
n/a
n/a
n/a
Standard Volume – WHICHABAM!
Monthly Fee
$25
$35
$60
$90
$175
$270
Total Subscribers
0-500
501-2500
2501-5000
5001-10000
10001-25000
25001-50000
Cost Per Additional Email
n/a
n/a
n/a
n/a
n/a
n/a
Design Services
Account Activation
$100
Existing Newsletter Template Customization
$150
Custom Newsletter Design
$495
WHICHABAM! Features
100´s of Design Templates
Split Test Email Campaigns
SPAM Verification
Send in Minutes
[More...]
Testimonials

Wow is all I can say! I have used other industry leading email marketing software packages but none have provided me with the features, service and safe sending rate that WHICHABAM! has. I am truly thrilled with the response I am getting from my campaigns. Comparing the results of our campaigns with WHICHABAM! to the others isn´t even moderately comparable. If you want results, I highly recommend giving WHICHABAM! a try. - Troy Weston - WestLists Company


I have been using email marketing software since the late 1990´s. No email marketing product in the industry comes close to providing the combination of price and measurement capabilities as WHICHABAM! Not only is the service the best in the business hands down, but I truly appreciated the stringent application process which confirmed the attention this company pays to quality clients and email delivery. This is the best email marketing program I have ever seen. - Danielle Demerino - Real Estate Talk