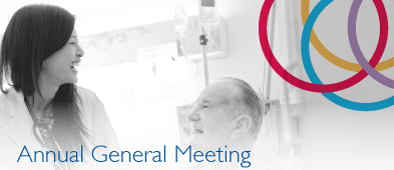 We are launching our new Strategic Plan during a special event at our Annual General Meeting. Join us as we celebrate our achievements and share our new vision and focus for the next five years:

When: Wednesday, June 19, 2013
Where: Brampton Civic Hospital (tent near main entrance)
2100 Bovaird Drive East, Brampton
Time: 4 p.m. - Annual General Meeting
5 p.m. - Public event and reception

An inspiring keynote address will be delivered by Jason A. Wolfe, Ph.D., President, The Beryl Institute - a global community of leading practice and thought leadership on improving the patient experience. Please RSVP to Janette Best at (905) 494-2120 ext. 59940 or janette.best@williamoslerhs.ca.
Linking the hospital to home
In January, a Telehomecare program launched at Osler to help patients living with Chronic Obstructive Pulmonary Disease (COPD) and heart failure (HF) learn to manage their health from home. The program links patients to registered nurses at Etobicoke General Hospital Medical Office Building, helping them get the right care, at the right time, in the right place.

Learn More
Teams short-listed for Peel redevelopment
We've narrowed it down to three and hit another milestone in Peel Memorial's redevelopment journey. In April, we announced three teams that have been short-listed as potential candidates to design, build, finance and maintain the new Peel Memorial Centre for Integrated Health and Wellness.

Learn More
Roland Chalons and his wife
Roland Chalons was brought to the Brampton Civic Hospital Emergency Department with dizziness and chest pains. Shortly afterwards, he went into shock and lost consciousness. "We were scared," he recounts, "but comfortable knowing I was in the right place where patient care was important and excellent." Read about Roland's experience through our hospital system.

Learn More