Inside Osler: First edition
William Osler Health System is excited to launch it's first electronic newsletter. We have developed this newsletter as another way to keep our community informed about what's happening at our hospital sites. We will issue the newsletter on a quarterly basis to keep you up to date about what's going on Inside Osler. We hope you find it helpful and informative.

We want to hear from you!
Contact us with your comments and feedback. Tell us what you'd like to read about in future issues.
Osler expands cardiac services
Brampton Civic Hospital's brand new $2.4 million cardio procedures unit is now offering angioplasty services – the gold standard for treating blockages from heart disease.

Learn More
Osler hockey team raises funds for kids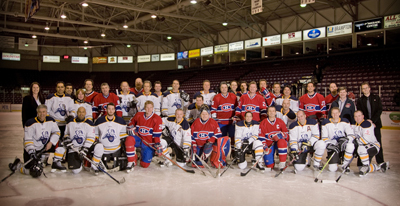 The Montreal Canadiens Alumni made their first appearance in the GTA in support of the Paediatric program at William Osler Health System.

Learn More
Growing to meet the needs of our community
William Osler Health System received two significant government announcements in support of our redevelopment of the Etobicoke General Hospital and the Peel Memorial Centre for Integrated Health and Wellness (Peel Memorial). At the same time, we have opened our 13th Operating Room along with a new 8-bed unit to support it at Brampton Civic Hospital.

Learn More
Etobicoke General Day Surgery triples in size
Etobicoke General Hospital's (EGH) day surgery patients have moved into a much larger space. Renovations began in May and finished in December, and the unit is now in a space almost three times its original size.

Learn More
Visiting our Emergency Department
William Osler Health System offers care 24-hours-a-day, seven-days-a-week at our Emergency Departments located at Brampton Civic and Etobicoke General. Our Emergency Departments are among the busiest in the province and visits to the ED continue to increase year over year. At the same time, even as the need grows, more patients are spending less time in the ED. This is a result of a concerted effort across all areas of the organization to serve you better. In many areas, Osler has as good as or better wait times than peer hospitals in our area.

Watch a video about what to expect in the department. For more information, read our ED fact sheet or see our Summer 2011 Community Update.